We recognize that all our patients are unique and deserve to receive dental care that reflects their individual needs. Our experienced and talented dental team is committed to working with you and your family to create a comfortable, stress-free, and rewarding dental experience every time you visit our practice.
We are pleased to welcome you and your family, and we look forward to working with you.
---

Cindy
Receptionist
I love to smile, and I love being around the wonderful smiles of our patients! I have been honored to work at this practice for more than 40 years. Being here for so long, I am now seeing third and fourth generations of families coming here for treatment. It's great to see new and old smiles coming into our practice, and knowing that they trust us and truly enjoy coming here for their dental care. Even after so many years, I still look forward to coming to work each day and seeing the team. Each member of this team is like second family to me; we all care about each other, and we care about our patients.
My husband Sam and I reside in Hamilton. Our married children, Dennis and Deanna, live close by, which affords us the opportunity to see our grandchildren, Jackson and Lily. During my free time, I enjoy bike riding and workout classes at the gym, and have recently taken up golf.

Kim
Registered Dental Assistant
I first was inspired to work in dentistry while I was in high school. I spent my summer breaks working in a dental practice, and after spending time there, I knew it would be a great career choice for me. I have now been working in dentistry for more than 30 years, and I still feel that this is the most wonderful profession. I love the artistry and skill involved with working in dentistry, and I enjoy being around our patients every day, making them smile.
I have lived in Bordentown my entire life, and I am happy to now be raising my own family in the same community I grew up in. My husband Pete and I have a daughter named Alexis. We love spending time with her. I also enjoy scrapbooking, photography, exercising, and gardening.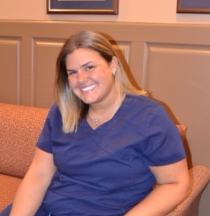 Andrea
Registered Dental Hygienist
I joined this office in 2016 and am grateful to work in a practice where everyone works so well together, and provides the highest level of care. As one of our hygienists, I enjoy promoting oral health, building a relationship with our patients, and creating a comfortable environment for everyone. It is my mission to maintain our patients' oral hygiene and inform them of its importance on overall health.
I am originally from Connecticut but currently live down the shore in Neptune. Outside of the office, you can find me at the beach, playing volleyball, exploring new places, or working on DIY projects. I enjoy spending time with my husband Ralph, family and friends, our Golden Retriever, Abe, and our two cats.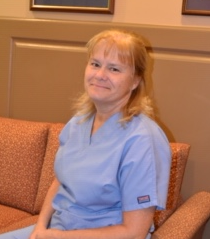 Robin
Registered Dental Hygienist
I truly love working in dentistry! I have been working in the field for more than 30 years and at this practice for about 15. It is my duty as a registered dental hygienist to help educate our patients on improving and maintaining their dental health. I enjoy sharing my knowledge with our patients, and being there to answer any questions they may have. I also appreciate working with such a compassionate, caring team of people. Everybody who works here is dedicated to our patients and our profession, and focused on providing the best care possible.
Outside of the practice, I keep myself busy with family, friends, and hobbies. My husband Rob and I have two grown sons, Bob and Michael, and a beautiful daughter-in-law, Krista. This year we have a new granddaughter, Lilia. I enjoy cross-stitching, gardening, going for bike rides, and cruising.